Students everywhere carry their mobile phone with them. It contains everything they need and is their connection to the world. However, the 'phone' aspect of the device is fading away. Instead of making calls, many individuals would rather use instant messaging apps. This trend started a with the popularity of SMS and has only surged in recent years. Most especially with Millennials and Generation Z.
Because of these changes in behavior, coupled with advances in technology, chatbots are now creating waves in industries beyond just customer service. One such industry is education.
The Benefits Of Chatbots In Education
More and more schools, from primary to tertiary, are using chatbots to allow students to reap the many advantages that they offer.
Personalization
The beauty of chatbots is that they can be personalized. Students in different geographic areas, different fields of study, and different levels of school communicate in unique ways. These communication styles could be based on whether the student knows English as a first language, the communication device that the student prefers, and so much more. Chatbots can be adjusted to deal with all of this. Universities that have students in countless majors can have individualized chatbots that are adjusted to communicate as effectively with a nuclear physics students as with a poetry student. Chatbots' vocabularies and styles of communication can be adjusted to suit a 10-year-old or a 40-year-old (i.e. chatbots can be programmed to provide more guidance for younger users).
And as technology progresses, chatbots are only going to become more adaptive and self-teaching. Organizations will be able to customize their chatbots for each and every student that they serve.
Immediacy
Teachers at every level can have hundreds of students that they teach in a single day. They are tasked with educating each and every one of them. Unfortunately, when these students have questions and they are outside the classroom, they can have a difficult time getting answers. Teachers are simply too busy grading papers and planning for the class to continuously be available to field student queries. This is where chatbots come in.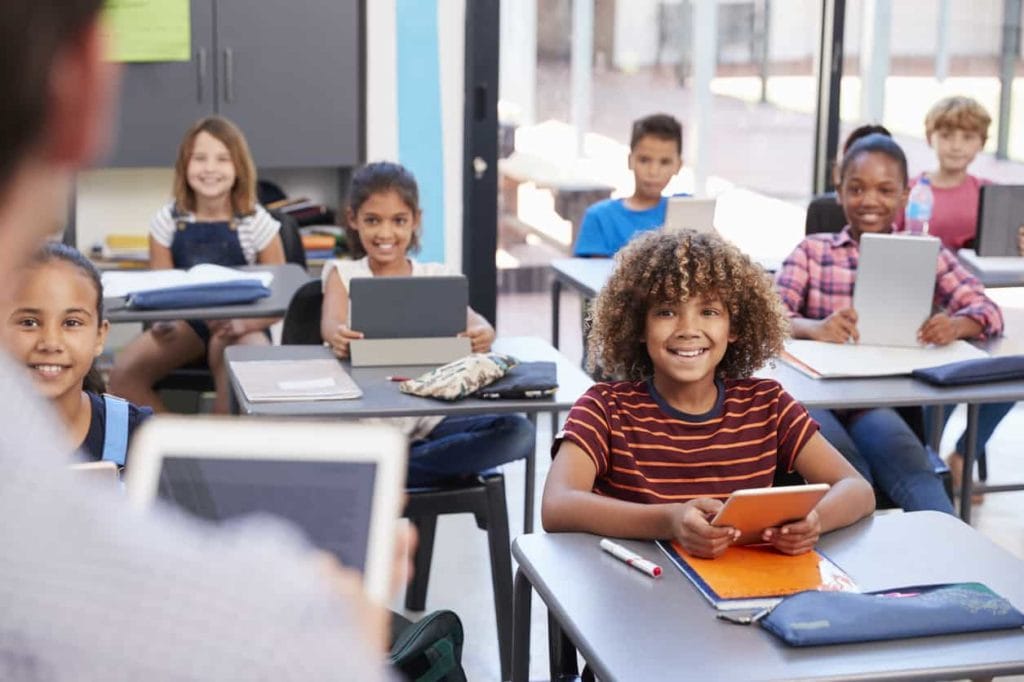 They can provide answers to any number of questions, whether about class scheduling or on the class subject. All the student has to do is type in their question and the chatbot will reply within seconds with valuable information. And if the chatbot does not know the answer to the query, it will request that the teacher responds. The chatbot then learns from this response and can use it for similar queries in the future.
Comfort
Not every student has self-confidence. Some get anxiety just from the idea of asking a question in front of their classmates. Others get worried about what the teacher will think of them and their question. Until chatbots, there were only two options. Students could either ask a question with a shaky voice in front of their peers and teacher or they could email and wait hours or days for a response. Chatbots change this. Students can feel completely comfortable and anonymous, as well as confidence that they will get the information they seek.
Qualitative Data
Teachers have only ever heard what the most vocal students have to say. They are not aware of many of the questions and struggles that the majority of their students are facing. Chatbots are altering this. Teachers can see the chat history, allowing them to identify areas that they may want to concentrate more on in class. Additionally, they can view questions that the chatbot was not able to answer effectively, and then reach out to the individual student to provide a more accurate or in depth answer to the query.
Interaction
To get the answers they are looking for, students have traditionally relied on glossaries, frequently asked question lists, course syllabi, and library catalogs. All of these sources tend to be dry, straightforward, and lacking any personality or ability to have a dialogue. Because of the advancements in technology, chatbots can be given a personality. They can offer students a pleasant and engaging conversation. And, if they aren't able to provide the student with the assistance that they need, they can be built to allow individuals to rate their service and ask for additional help. This is where the teacher or TA can then step in to deal with the more complicated questions.
Examples Of Chatbots In Education
The use of chatbots has proliferated in education. Many educational institutions are becoming more and more open to new and innovative ways of employing chatbots in their daily practices. Here are just a few of the use-cases that have proved successful.
Georgia State University
During the 2016/2017 academic year, GSU implemented a chatbot. The goal of the bot was to help new students, who were fresh out of high school, make a smooth transition to college. The school looked at student preferences and found that, rather than hosting the bot on its website or on the student portal, it should allow students to engage with the chatbot over text message.
The bot was designed to take new students by the hand from the moment they are accepted to the college through their first semester. It can answer questions about FAFSA and student aid filing, housing options, dining plans, registering for classes, signing up with campus organizations, and just about anything a new student would need to know about GSU. All of this is powered by a combination of supervised machine learning and AI.
During the first month of the chatbot's launch, it had a 71% engagement rate with new students. And with these 3,000 students that utilized the chatbot, almost 50,000 texts were exchanged. Further, the chatbot was so effective at answering questions that only 1% of questions were passed on to be addressed by university staff.
Georgia Institute Of Technology
Georgia Tech is another university in the Peach State that is employing the use of chatbots. A professor of computer science has chosen to use the technology to serve as one of his nine teaching assistants. The TA chatbot responds to student queries, as well as posting questions on the online class platform to engage students and sending reminders about due dates.
The chatbot is programmed to speak naturally, using exclamation points and responding in the affirmative with, "Yep." And with this particular professor's 300 students, there are normally around 10,000 posts to the online platform every semester. The chatbot is able to address 40% of the questions posted, which allows the other TAs to deal with more high-level work.
Online Counseling
Universities and larger high schools have been fighting a battle for decades. They struggle to effectively serve the individual needs of every student. By utilizing academic counselors, they are able to provide each student with some one-on-one and personalized feedback. Unfortunately, only so many counselors can be employed and they can only meet with a handful of students every day. For this reason, some universities are testing out chatbot academic counselors.
These chatbots allow students to get answers about their specific situation, the courses they have taken and should take, and many of the other services that academic counselors offer. When a question is too high level or complicated to address, the student is directed to a scheduling feature, where they can choose a day and time to meet with a counselor in person. This type of chatbot dramatically reduces the time spent on academic counselors on answering basic questions. It also helps students to get the solutions they are looking for in real-time instead of having to wait several weeks for an appointment to become available.
Learning Language
One of the major pillars of education is foreign language. Students of every age are either required or have a strong desire to learn a new language. Unfortunately, unless they have the means and time to travel to a foreign country, it can be difficult for them to have conversations with someone who is fluent. Chatbots allow foreign language students to do just that.
Current foreign language chatbots have the ability to adjust to a student's level of fluency and they can even make response suggestions if a student is getting stuck. In short, it is the perfect way for foreign language pupils to work on their grammar, vocabulary, and fluency.
Customized Teaching
In many public schools, classrooms are simply too full. Teachers are not able to give individualized attention to the students who need it. This individualized attention, though, is starting to be provided by chatbots. As computers, laptops, and other devices are becoming more commonly used as learning tools, chatbots are being installed that can tag along with students as they are in class and doing their homework. The machine learning and AI that are built into them allow the chatbots to adapt to each student's needs and ability level. And in order to determine this ability level, they have a natural dialogue with the student to see where they might be exceeding expectations or falling behind. In short, they enable students to learn at their own pace and, by doing so, prevent them from falling behind their peers.
The future of chatbots in education is bright. They won't be replacing teachers and professors any time soon, but they will take much of the burden off of these professionals, allowing them to dedicate themselves fully to teaching and developing strong curriculums. To find out more about chatbots, please contact us.